the racing pisshorses
c o n c e r t &nbsp f l y e r &nbsp a r c h i v e
1995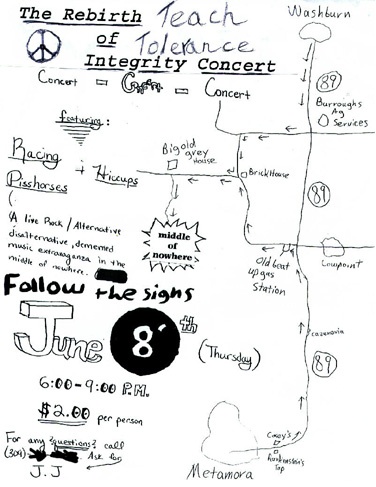 This is from our 6th concert, and our first outdoor concert (previously we had 5 "concerts" in JJ's garage and played at a basketball game) and the first concert we played with another band (the hiccups). It was a fun concert, about 30-40 people, as we played on a hayrack trailer. The Hiccups played a cool song called "Donut Sticks" in which they threw donut sticks at the audience. While the pisshorses played some songs, the hiccups and Buck stage dove off the trailer into themselves. The concert was originally called "Blowout in BFE" but, ahem, JJ's mom didn't approve.
1996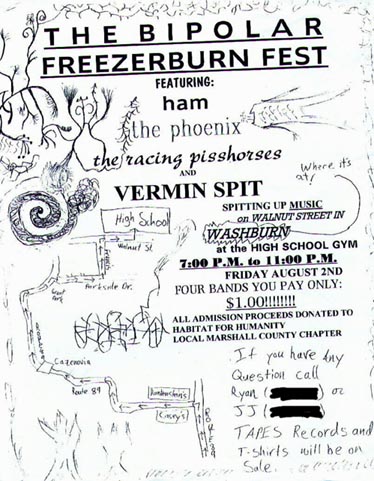 we made this flyer for a big concert we had at the Washburn fesitval. yes, that's where we're from. we had a really fun time, and sold the tape that ended up in the hands of makeshift dude-man mike richards. concert exerpts available on this budget cassette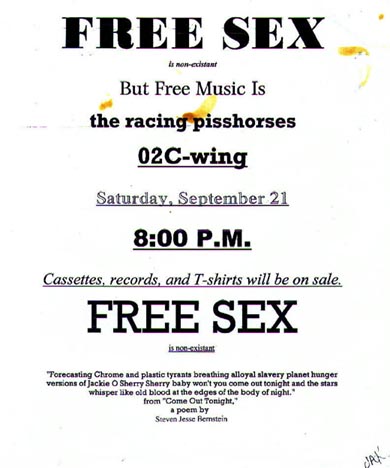 this flyer caused a small manner of debate and uproar around the imsa campus. just to clarify it says "FREE SEX is non-existant". yes, sex intrigues, sex sells. we all yearn for sensuality.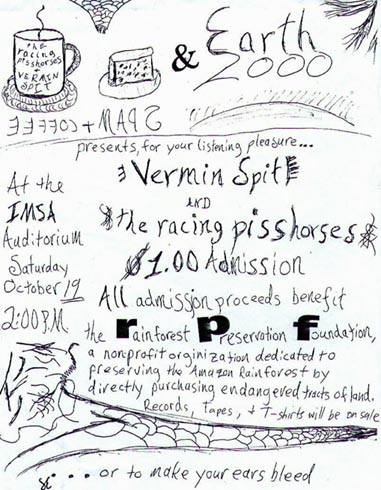 this was a sort of concert/write-a-thon. Our second or third show with Vermin Spit (as we played with them at a show at some coffee house in Henry, IL. we taped some of this fun show where we played "roll over beethoven" and ryan smashed a guitar with is rock-heiny.
1997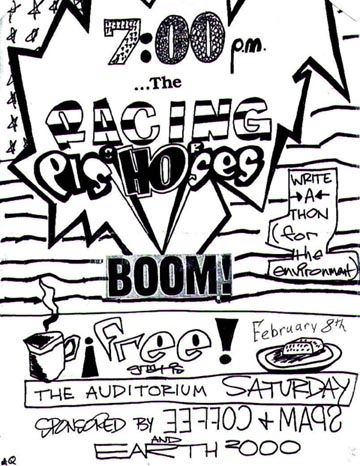 aldo quintanar drew up this flyer for our first concert (one of only two, the other being in this scary basement) with Drew from Vermin Spit. aldo filmed the show, as we performed in the IMSA auditorium with a bunch of theatre props laying around. writhing fun.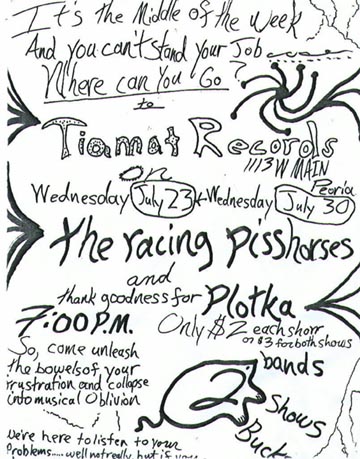 this was our first (and so far only) concert in Peoria. it advertises two shows, but only the first took place. Drew ditched us at this show, so ryan & jj were forced to play all their old two-man stuff to a tiny but jumping crowd. ryan & jj began scheming to make mike their drummer after this show. this show was crazy noisy-loud, like the old days. Tiamat has since been demolished. more on this show from the Lotkap side.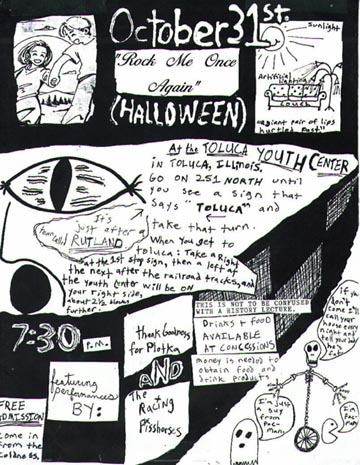 This here's the first concert the pisshorses played with Mike on drums (mostly) we rehearsed once before this show for 2 hours. (you might be wondering just how it is that mike managed to play if he just joined the band. well, he listened to our demo tape and we had practiced once before in october. i think. and of course, he beats them puppies!) we played in a delightfully open and psychotic manner. lots of crazy dancing and jumping around. this place was pretty small, but I think it had some pinball machines. we played some crazy in the moment instant improvisation. we loved it, but who can say now? it's just air. more on this show from the Lotkap side.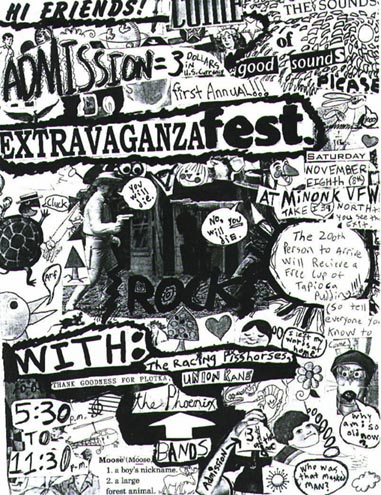 we didn't rehearse for this show, but JJ decided we should play a Jimi Hendrix medly of songs no one else knew. chaos of the day ruled. wasn't this a birthday party or something? (the phoenix didn't actually play at this show. neither did the racing pisshorses. the show we were just talking about was actually some bizarre birthday party at the minonk VFW. but, we liked that show, so we thought this was a good excuse to write something about it. in fact, it was the first show we ever got paid for: $20. to find out what this show was really about, click here.)
1998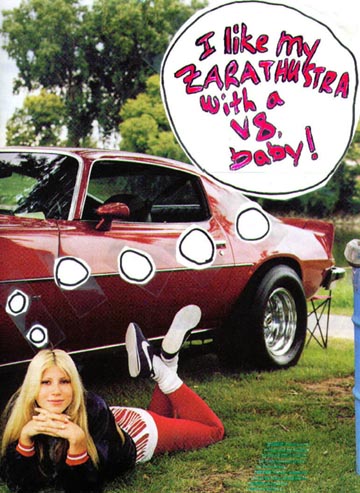 this flyer is an example of the media campaign Lynn and JJ waged on the IMSA campus, trying to confuse and inspire people. Zarathustra became an arts and music festival that occurred on may 5th 1998.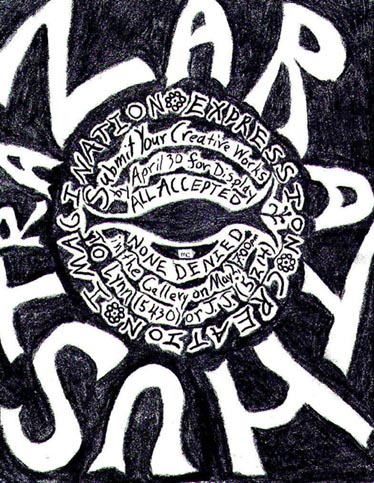 this is a flyer that JJ made to get people to submit artwork for the festival. the pisshorses played for a couple hours at this festival (click here for the whole zarathustra story.)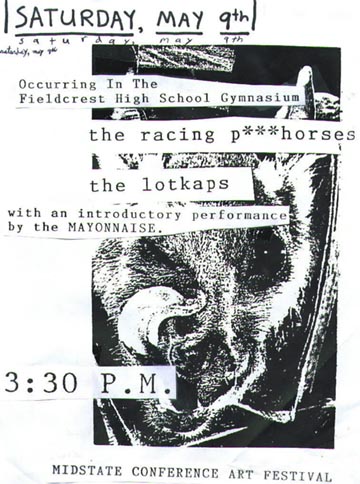 This was our last concert for more than a year. The opening Mayonnaise chased most of the audience away, with half the remaining audience related to JJ. JJ was pretty pissed actually at these two crazy cats, one twisting knobs, the other jumping on an overdriven toy keyboard while apparently smacking some sounds out of a bass. astonishingly full of no commercial potential. the pisshorses still had fun thou, Our PA was loud, and we screamed with frustration and happiness. mike broke a drum head playing foxy lady. reminiscent of that silly birthday jimi hendrix medley, JJ taught ryan a new song from a tape in his car (Politician) which later ended up as a staple of the pisshorses live show. although nobody was watching, we had a damn fun time playing on this little stage in the middle of Minonk's high school gymnasium. more recollections from the Mayonnaise/Lotkap side
1999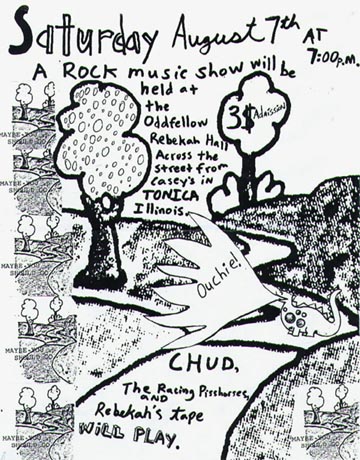 this was our last live performance with Ryan. We rocked it out for the 5 or 6 folks who were still there (we were last....) we played for a good hour and a half. old school and new school pisshorse fun. kind of a bittersweet night, though. but we did meet cory bengsten from CHUD, who played bass beautifully. he later became part of rebekah's tape. more from the rebekahs tape part of the show.
2000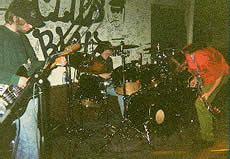 This is a picture from our first show with Randy playing bass. It was in a rather unimpressive bar on a frigid January nite. the highlight of the show was playing a loud driving rendition of Clipping your toenails in Tennessee" for a dumbfounded audience.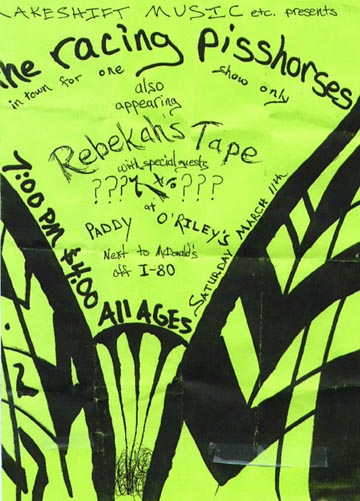 This was our one and only show at the happenin' joint once known as Paddy O' Riley's. At one point in our set Mike's back became very sore and in pain, so Randy & JJ alternately tried to help him loosen it up and feel better by giving him deep, penetrating, comprehensive back massage treatments onstage. A few people in the audience found this activity to be less than platonic. Below is a poem on the matter;
Homo-erotic overtones
Undulating tension
Muscular redemption
Pummeling was the cause.


Michael hurts.
Energize him.
Anyways, the reason people were confused probably had something to do with the ridiculously tight shirt JJ was wearing. If you love your friends and you're not afraid to show it by giving them a backrub in public because they are in pain, clap your hands!
contrary to popular belief, this flyer is completely innocent. click on the flyer to see our name in lights. for more info on this show from rebekah's tape, click here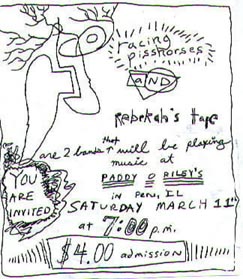 This is a little handout flyer for the same show...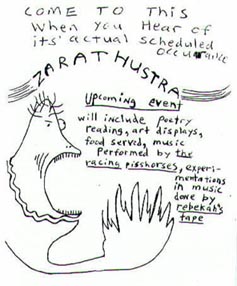 this flyer is from the biennial Zarathustra festival. of course, it only happened twice, but... anyways, we had a lot of cool art on display here, from Jenny Pietz's stunning b&W photographs, to aldo quintanar's paintings to stuff from all of us here at what is now intangible cat. nobody came really, but that's happened a lot over the years. the pisshorse show was pretty awesome, it was our third (and maybe last?) show with randy on bass. aldo joined us on a second drum set. probably the highlight was "see my life" and a new song that we made up there.... more on this show from rebekahs tape.
2001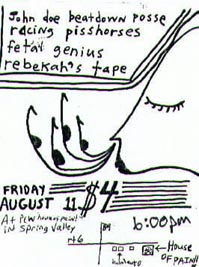 this flyer is from our second show the summer of 2001, at the PCW in Spring Valley. played this new medley of amorphous bathing and an unreleased tune, "lawnmower." we were moving from tuning in between songs for decades (like we did at the first Zarathustra) to starting the next song before stopping the first. for our third show that summer, we finally did just that, playing our 12 song set in 45 minutes with just one interruption. unfortunately, JJ had to go back to school. our first show that summer was also at the PCW wrestling place, only that time we actually played in the wrestling wring in 100 degree temperatures. it was so much fun, but there was no ground for the mic so JJ kept getting some lip-shock. finally he put a stocking hat over the stupid thing, taking the shock away but adding to the heat. lotta sweaty fun, though. as far as we know, this was cory's first show with the pisshorses. more from the rebekahs tape part of the show.
2001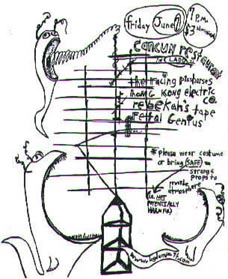 this flyer is from one or two shows (can't remember) that the pisshorses got together to play before jj up and went back to India. can't say we remember anything about this/these show/s except that we were at the cancun.
If you have any pictures from these shows or other flyers we don't have, please email us and we'll put them up. cowchimes@hotmail.com Thanks.