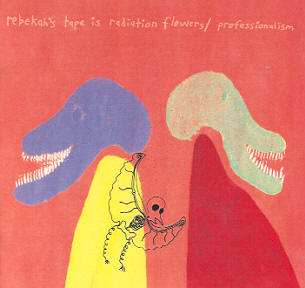 Double album: radiation flowers disc is the recorded manifest of songs created to be played "live" over years 2001-2003, with smatterings of home recorded ventures. professionalism disc is a small collection of instrumental improvisations originally intended to be a tape, but throwing it in with radiation flowers seemed more useful (many people are unaware of rebekah's tape's more abstract work). The music on the radiation flowers disc serves as a one-upping sequel to 'rebekah's tape is manatees'(circa 2001), and should feel pleasant to the ears of people who enjoy hearing dreamyness and playfulness music. The music of the professionalism disc should feel pleasant in the brain of people who like elongated, abstract, black, pretty-ish, spacey, water-flavored orange soda.
CAT-1(2CD)
$12.00 US/Canada $15.00 World
DOWNLOAD RADIATION FLOWERS DISC HERE $6.
DOWNLOAD PROFESSIONALISM DISC HERE $5.
sampley tea droplets:
Radiation Flowers/Professionalism samples by rebekahstape