Current Products
Click on any album that interests you to view slightly larger cover art, read a description, and purchase. All physically available titles are equipped with paypal nodules for online purchasing of physical objects. Most releases are also available digitally (some with exclusive bonus materials). Just look for the word "Download" and follow the appropriate link nearby. We also enjoy taking orders and corresponding the old way; with pen, paper, envelopes, check/money order, and tactile human interactivity. If you order something via snail mail, please specify what item(s) you want and list alternates in case the item(s) you seek are out of stock. You are of course permitted to email prior to sending money to check for availability.
See Archive and Distributed Items at bottom of page.
address:
Intangible Cat
P.O. Box 33
Spring Valley, IL 61362
Feel free to contact us via email at intangiblecat at g ma i L dott commm.
audio and video recordings

CAT-20 The Moon Is Hungry - 4 way split 2xC20:
4 sides of dark feelings dreamt, pounded, scrawled, and erupted by Homogenized Terrestrials, Andrew Quitter, Cruudeuces, and Dog Hallucination. This split is four concentrated studies of deep dirt thought rendered by four stimulatingly different experimental artists working with electronics, noise, drone, field recordings, manipulated guitars, etc.

CAT-19 Dog Hallucination - Serving Two Masters 3": A segue or prelude of sorts between the "dormant era" of Dog Hallucination creation and the current "flowering era". 6 tracks of evocatively baroque-yet-unadorned psychedelic guitar hologram-daguerreotype materials recorded and edited in lo-hi-fi late 2012 to early 2013. Contained in ultra special and lovingly hand made packaging.

CAT-18 Gushing Cloud - Beat Wings In Vain CD/Download:
A well-matured full length CD of exceptionally interesting electron-psycha-progressi-noiserock flavors that whirl through enough thoughtfully sculpted emotional and aesthetic territories... you will be stimulated. Many plundered sound sources and thought realms are masterfully placed and woven. Many corners and stones are turned, and the path continues on towards the vanishing point.

CAT-17 Amalgamated - SPARK II 3": The second and final disc of pieces from a live performance at now defunct LaSalle, Illinois venue, The Spark. This more visceral and articulated disc is a glimpse deeper into Amalgamated's aesthetic and technical range as artists, engineers, and producers of unusual music.

CAT-16 Homogenized Terrestrials - The Contaminist CD/Download:
A new, lush collection of mostly placid and hypnotizing textures starkly in contrast to 2010's Worlds Away. More emotion is found swimming in the ambience. New angles and aspects of experimentation with synthesized sound are explored, and the production is at pristine levels of quality. A complex ambient cosm.

CAT-15 Amalgamated - SPARK I 3": Amalgamated's debut disc. Unusual textural electronic experimentation with an adventurous variety of sound sources, based often around loose rhythmic and tonal perameters. An in-depth, 6-way collaboration exploring the potentials of the musicians' captured performances and the producer / engineers' editing / embellishing talents. 50 copies.

CAT-14 DOG HALLUCINATION - BOB HALLUCINATION 3": A collaboration resulting in a 23 minute assemblage-pile of dense guitar textures against a sculpture of synthesizer sounds, field recordings, and electronic rhythms. Microscopically expansive.
out of print - download only

CAT-13 rebekah's tape is O.O.'s fightin' birthday bear DVD A dvd documenting a HOTTT and juiced-up Rebekah's Tape concert, May 16, 2009 (R. Tape member Owen C.'s 25th birfthday, and what ended up being their last concert) featuring Stevell Larbjiv's antics, lights, props, and lively HQ performances of a bunch of previously unreleased songs. The DVD also contains some extra mini-films of Stevell. An excellent document of a unique and endearing band.

CAT-12 rebekah's tape is pregnant Various odds and ends Rebekah's Tape recorded since 2003's "...is radiation flowers/professionalism" 2CD. A few quirky and moody instrumentals, clues to new directions, a cover song done for a tribute compilation, a few live tracks from a unique performance...a flavorful mix of concepts!
Free Download Only.

CAT-11 homogenized terrestrials - worlds away New CD & DVD in extremely deluxe handmade packaging. The CD holds deep exploratory electronic sounds continuing down the path Mr. Klampe started on circa 1982, but utilizing some very current and forward thinking synthesizer/electronic manipulation technologies. The DVD, being Phil's first release of video experimentation, provides organically produced far-out imagery to accompany 6 unique 5.1 audio mixes.

CAT-10 gushing cloud- prism shelter A fantastic EP. Gus Kumo is a highly talented and visionary electronic producer and his soulful imagination as well as his technical skill shown here provides an impressive and fulfilling listen.

CAT-9 dog hallucination- boogers Dog Hallucination's 3rd album. Somewhat of a concept album, wherein "Doggy P. Lips" has attempted to crystallize certain insights into sounds on cassette tapes, and at a couple of collaborative hi-fi studio sessions, then left the tapes and some descriptive objects to D. Petri to organize and focus them with intensive, expansive audio mixing.
out of print - download only.

CAT-8 dog homogenization The second Dog Hallucination album. A collaboration with Homogenized Terrestrials. Slow, quiet, stirring, vaporous, warm. Lengthy, semi-shapeless, comforting isolation tanks to inspire or expand the breadth and depth of repose-contemplation. Textural and evocative.
out of print - download only.


CAT-7 headless ballerinas underwater- chum tide H. Ballerinas U. give you plenty of bent stories of impossible places and beings, bizarre sounds, and otherworldly conceptualizations. Abundant with complex audio collage work and energetic expressions culled from their fascinating vault of home created audio joy. A remarkable work loaded with color and wild life. out of print - download only

CAT-6 intangible cat - brindavani sarang Sitar and tabla. This recording comes to you in a traditional format. There is one full-blown raag, 'brindavani sarang,' with a solo sitar intro and slow and fast pieces with the tabla. There is also a catchy Dhun that closes out the album. Includes original photography artwork by Jj.

SIXDOT-A dog hallucination - (1) The first Dog Hallucination album. Expansive, exploratory, and varied emotional climates shaped with densely multitracked guitars steeped in manipulation and effects. Spiritual feelings. Originally released on Phil Klampe's (Homogenized Terrestrials) Six on the Dot recordings label in 2006.
out of print - download only

SPC-10 Ryan t - Heading Home
Unavailable.

CAT-5 gushing cloud/audible paz - cause a solution
Unavailable.

CAT-4 seedy - Headless Ballerinas Underwater 2 CD set includes a slick studio session and selecions from their history dating back to 1990. A voice telling stories in various inflections and accents, and expansive, diversely encoded campy experi-ambience flowing flickeringly across the surreal and twirly hell-like landscape. An incredibly unique group with a complex mythology and aesthetic set that is as ecclectic as it is eccentric.

CAT-3 tone deaf afro, iím told An album of varied organic instrumentation. Some improvised, some composed. Spoken word pieces, subdued exotic instrumentation, interesting percussion work, evocative sitar performances. Intimate and colorful thoughts purveyed with playful pleasure.

CAT-2 Grip Master Baselines - would work minimum wage for you, girl
Unavailable.


CAT-1 rebekah's tape is radiation flowers/professionalism. Rebekah's Tape was an interesting band, and this is some of their finest work. "...is Radiation Flowers" is an album of complex trajectory, flowing from piece to piece with interesting vignettes and textural audio experiments that pull the listener along to the characteristically cryptic emotional perplexity/curiosity/wonder embodied in the later chapters of the disc. "...is Professionalism" is a similarly deep vacation.
*shirts*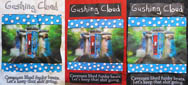 Gushing Cloud T Shirt $14ppd
Misc sizes in Navy, Black, or White.
Email for size/color availability.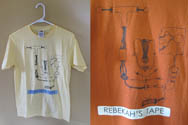 Rebekah's Tape T Shirt $14ppd
Misc sizes, misc. colors.
Email for size/color availability.
To view, listen to, and purchase downloads of older releases from Intangible Cat's previous incarnations as MAKESHIFT Music, etc. and Eeffoc & Maps, go here:
ARCHIVE

To view, learn about, purchase, and in some instances listen to non-Intangible Cat label items, go here:
DISTRIBUTED ITEMS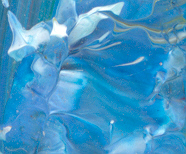 Back to Intangible Cat Home Page