This e.p. is a collection of various demos, special creations, and live performances created between 2003 and 2009. It was created in lieu of the new Rebekah's Tape album (yet to be titled, yet to be completed...) and available for sale at the new year's eve 2008-9 performance Rebekah's Tape did with Egon's Unicat at the 9th street pub in La Salle, Illinois, as well as at the concert featured on the REBEKAH'S TAPE IS O.O.'S FIGHTIN' BIRTHDAY BEAR DVD. The cd was hastily put together, which resulted in two flaws: 1. two second gaps between tracks (whose stoopid idea was it to make that a default setting in so many cd burning programs?!), and 2. no intangible cat catalog number. Those problems are no longer relevant. We removed the 2 second gaps, and it's CAT - 12. It's been remastered with enhanced audio quality for maximum listening enjoyment possibilities.
These songs are varied in mood, approach, and fidelity (as usual). They sum up the various directions Rebekah's Tape meandered through post-Radiation Flowers in their home recording and live experimentation.
Just you go ahead now and download this extended play item.
CAT-12(DOWNLOAD) . . .. . . . . . .. .free
Download below.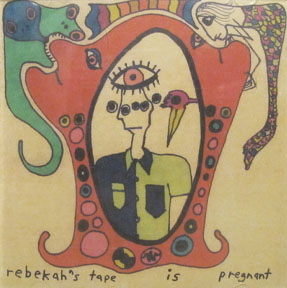 NOTES ABOUT THE RECORDINGS:
1, 8, 9 recorded live at the Cancun in Ladd, IL year 2004. Thanks to the special few who were there. Here's the flyer Mike drew for this show.
2, 4, 6 recorded at the Richards family homestead in Minonk, IL on 4 track between 2002 and 2005.
3 recorded at SMS by Rob Newell in Tremont, IL, 2003. Radiation Flowers outtake.
5 written by Bloody Mess, recorded for Bloody & the Bastard Children tribute CD, 2004. This is an alternate, more ridiculous version than the one we gave them to put on the tribute. It is also sort of a junky mix.
7 is a vary preliminary stab at the "Rebekah's Tape is Floating Nipple Energy" sampler-based, dancey type muisc vibe. Recorded 2005 - 2006 at Mike & Cory's dumpster house in La Salle.
PERSONS PRESENT IN THESE RECORDINGS:
Cory Bengtsen- guitar on 3. bass on 2 & 4. sounds on 1,2,5,7,8,& 9.sampling/programming on 7,8, & 9. saxophone on 7. Drawings inside
under cd tray and opposite cd tray.
Owen Cummings- percussion, sounds on 1,8, & 9.
Mike Richards- guitar on all except 1 & 4. bass on 7. drums on all except 1 & 3. voice on all except 1, 2, 4, & 6. et cetera on all except 3,4, & 6. Drawings/text on front and back cover.
Shawn Cummings- bass on 3. guitar/noise on 1, 8, and 9. speaking, menacing laughter on 1 & 5.
Commander Mealworm- keyboard/sampler on 1, 8, & 9.
Dustin Freeman- drums on 3 & 6. farther away voice on 1.
Tony Modro- misc. percussion & sounds on 1,8, & 9.