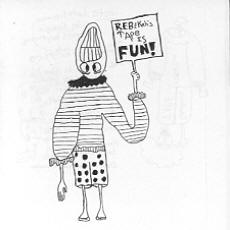 Samples of this album's WEIRD:
let's go swimming
full!
grandfather jacob
oregano & mustard
'things ain't the way they previously used to seem...'
(full-length mp3!)
awa
music samples ©2001 rebekah's tape

What is the craziness that rebekah's tape has produced on this CD? Hell if I know. But that's why it's so much fun. Great silly sing-alongs about going swimming, eating weird food, why VCR's are so cool.....it's all there. Includes some really funny phone call type doo-dads.
MYL-8 . . . . . . . . . . . . . . $5.00 USD ppd
r-tape homepage.