December 19, 2013: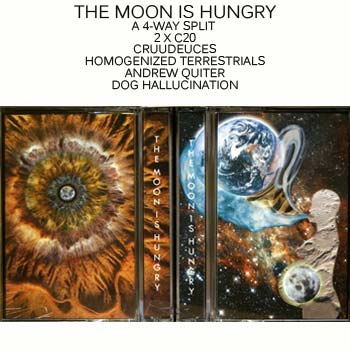 Finally this is finished and available. 4 greatly dark weirdnesses on 4 ten-minute sides by Homogenized Terrestrials, Cruudeuces, Andrew Quitter, and Dog Hallucination. $8.50usa/can $18.50/world. Click the image to go to the page, listen, and buy. Interested parties & distributors please email intangiblecat AT G M AI L dot c om for trades & special rates.
July 11, 2013:
DEAL: $18.00 for both CAT-18 and CAT-19 postage paid ANYWHERE. Order at either release page.
June 29, 2013: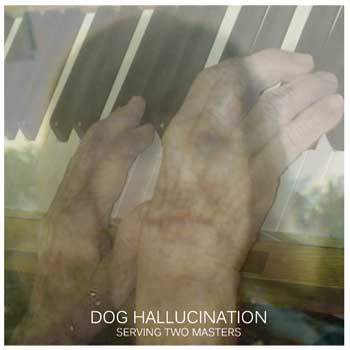 CAT-19 Dog Hallucination
Serving Two Masters
3" CDr / Download
READY & DONE BABY!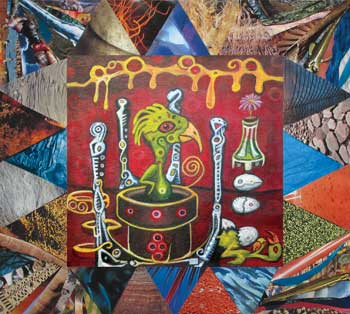 CAT-18 Gushing Cloud Beat Wings In Vain CD Digipak / Download READY & DONE, BABY! Order now

Jan. 15, 2013:
Postage prices changing! Unfortunately we're going to have to tack on a little bit extra to most of our prices to cover the rising postage costs and increases in frequency of mailings. There will now be TWO paypal buttons for many releases, covering IN USA/CANADA and EUROPE/WORLD. Please be careful to select the appropriate amount for shipping to your location. Be assured that we expidite our orders with care and haste, and will often include extras in appreciation of your order.
PLEASE email intangiblecat at g ma il with any questions or special arrangements.
Homogenized Terrestrials - The Contaminist CD eco-wallet now available.
Recent releases:
Amalgamated - SPARK II 3" cdr/download
Homogenized Terrestrials - The Contaminist Download - CD Available Soon
Distributed items:
Avons - hardscrabble 7"
Headless Ballerinas Underwater - Ruby Download
Most of the MAKESHIFT Music, etc. catalog and the the Rebekah's Tape releases have been archived digitally via bandcamp and are available for streaming & download at modest prices - have a listen.
Check out Rebekah's Tape is Archaelogy video HERE to see some aspects of what you may have missed.
Later this year:
Split C60's with: The Big Drum In The Sky Religion, Dmitri Zherbin, Tired Light,
Arturas Bumsteinas, Gods of the Dead (Geoffrey Sexton & Frank Baugh), STRNGLV,
Pelktopia, Homogenized Terrestrials, Nigel Samways, Yahoo! News, and Miguel A. Garcia
Amalgamated - Bulbing, Cricket, Splash C40
Amalgamated - TBA CDr
Amalgamated - (self titled) CD digipak
Dog Hallucination - 'Mitzi' CD